1000 Miles of Snow
About Us
Strap on your helmet and pull on some winter boots – we have world-class snowmobiling that will keep you dreaming of winter all year round!  From Hudson Bay to Tisdale, Nipawin to Porcupine Plain, our trails will tour you through some of the finest parts of North East Saskatchewan. You will ride through forests, over lakes and up hills.  There will be warm-up shacks, old grain elevators and several friendly communities along the way.  You will breathe in the fresh crisp winter air and forget city life for a few hours, or days, or weeks – you decide!  Saskatchewan is a winter playground.  Let us show you around.
North East Saskatchewan
Featured towns
We are confident the towns and villages you pass along the way will offer you five star hospitality. These towns are home to many unique amenities as well as noteworthy historical sites and breathtaking tourist attractions. The residents will be happy to give you a warm bed, delicious food and the inside scoop on what to see and how to get there.
We have listed several towns below with a short descriptions of the amenities they offer to snowmobilers. Visit their websites and discover all the great businesses waiting to serve you when you ride through.
Testimonials
Clients About Us
"I keep coming back to snowmobile the northeast region year after year because not only do they have amazing snowfall but the trails and terrain are wonderful for those looking for an adventure. Everything from the warm-up shelters to accessing Wildcat Hill – one of the most remote provincial wilderness parks in the province – makes this an epic location to spend a weekend or a whole week away. There are lots of unique places to stay and access to restaurants that make you feel like you're dining in a big city. I can't wait to come back for my next adventure!"
Nestled in the heart of God's country, surrounded by nature's finest boreal forest and only a few hundred meters away from a protected bird sanctuary. Whether you're looking for a summer getaway or a winter adventure, you will have access to over 700 km of pristine groomed snowmobile trails literally at your door step. You will have all the comforts of state-of-the-art warm-up shelters along the way.
Snowmobile Gear
It is cold out there and we want you and your family to be safe on the trails. Wearing the proper gear can go a long way in ensuring you have a safe and enjoyable ride. Below you will find a list of essential clothing to take out on the trail. If you are missing any of these items, the Polaris dealership in Hudson Bay or Pine Power Sports Marine in Nipawin would be happy to suit you up.
Jacket
Snow pants (preferably bib style)
Snowmobile gloves or mitts
Base layer shirt and pants
Mid-layer shirt and pants
Helmet with a heated or double pane shield
Warm socks
Well insulated boots
Balaclava or face mask
1,000 miles - Trail Map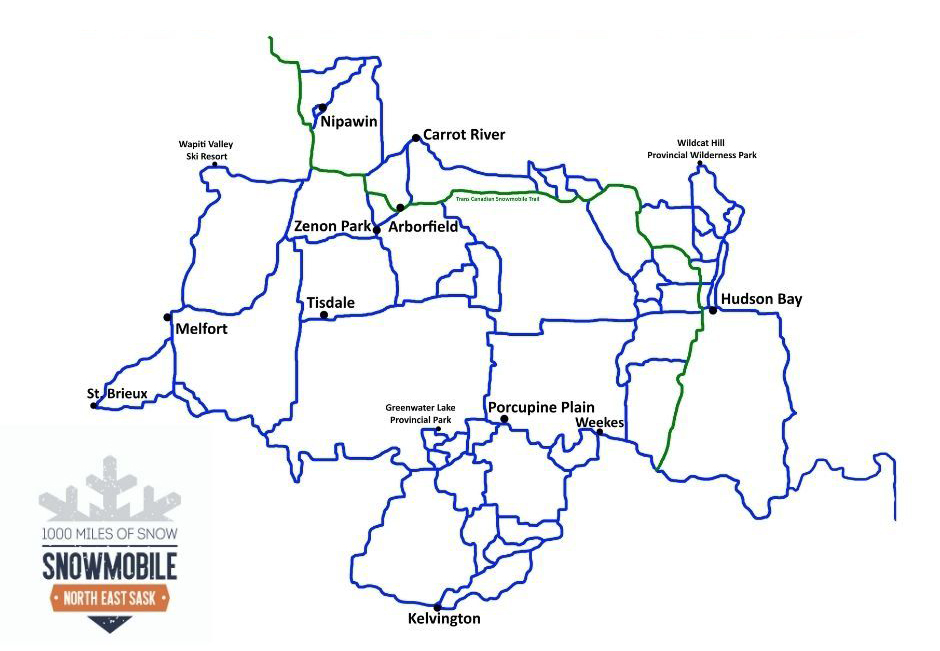 Grooming Conditions
1000 Miles of Snow supports local snowmobile clubs. These clubs have teams of volunteers working hard to keep the trails groomed for your safety and enjoyment. For up to date information on the status of each trail check the Tourism Saskatchewan trail map at the link below. This map not only gives information about the snow conditions but also, offers details about accommodations, restaurants, fuel, warm up shacks and dealership locations. Check the map before leaving home.